Hà Nội, VietNam
Hanoi (Vietnamese: Hà Nội, "River Interior") is the capital and second-largest city of Vietnam. As the capital of Vietnam for almost a thousand years. Hanoi is is the social, cultural and economic center of the country.
Hanoi hosts more cultural sites than any city in Vietnam, including over 600 pagodas and temples. The Old Quarter, near Hoan Kiem lake, has the original street layout and architecture of old Hanoi. At the beginning of the 20th century the city consisted of only about 36 streets, most of which are now part of the old quarter. Each street then had merchants and households specialized in a particular trade, such as silk traders, jewellery, etc. The street names nowadays still reflect these specializations, although few of them remain exclusively in their original commerce. The area is famous for its small artisans and merchants, including many silk shops. Local cuisine specialties as well as several clubs and bars can be found here also. A night market (near Đong Xuân market) in the heart of the district opens for business every Friday, Saturday, and Sunday evening with a variety of clothing, souvenirs and food.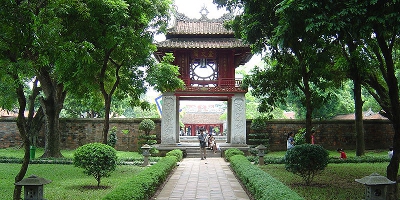 Some others prominent places are: The Temple of Literature (Van Miếu, picture above), site of the oldest university in Vietnam 1070; One Pillar Pagoda (Chùa Một Cột); Flag Tower of Hanoi (Cột cờ Hà Nội). A city between the rivers, built from lowland, Hanoi has many scenic lakes and sometime is called "city of lakes".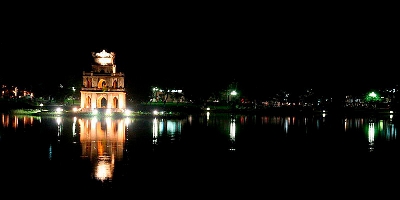 Among its lakes, the most famous are Hoan Kiem Lake (West Lake, Halais Lake (Hồ Thiền Quang) in Vietnamese), and Bay Mau Lake. West Lake (Hồ Tây) is a popular place for people to spend time. Under French rule, as an administrative centre for the French colony of Indochina, the French colonial architecture style became dominant, many examples remain today: the tree-lined boulevards (e.g. Phan Dinh Phung street), The Grand Opera House, The State Bank of Vietnam (formerly The Bank of Indochina), The Presidential Palace (formerly Place of The Governor-General of French Indochina), the cathedrale St-Joseph, and historic hotel Sofitel Metropole. In 2010, Hanoi city celebrated its 1000th anniversary (10th October 2010).
Hanoi University of Science and Technology
Hanoi University of Science and Technology (HUST ) was established in 1956 as the first national university of science and technology in Vietnam. Since then, it has functioned as an institution performing engineer training and scientific research for almost all industrial branches of the country.
HUST is located in the southern section of Hanoi, close to the Giai Phong and Dai Co Viet cross roads. At present, the number of HUST teaching staff is about 1,500 (within a total of 1,800 university employees). HUST has 14 faculties, 23 institutes and research centers, 16 administrative and support services. Among them, there are 240 professors and associate professors, 450 Dr.Sc. and Ph.D. To date, more than 35,000 undergraduate students of different modes of training, including full-time training, part-time training and training of highly qualified technicians, and approximately 2,000 graduate students have been trained at HUST in 63 different specialisations. Over the years, HUST has trained more than 80,000 engineers and 1,800 masters and doctors. This human resource has been working in every field of the national economy throughout the country and making considerable contribution to the socio-economic development of the country, and scientific and technological development as well. Many of them have become Ministers, Vice-Ministers, etc. Others have become high ranking and famous scientists, leaders of research institutes and training units, as well as successful businessmen. Hanoi University of Technology is a member of 8 International University Associations. Hanoi University of Technology has set up cooperation in research and training with 200 universities, research institutes and companies from 32 countries in the world.
Proposed Tours around Hà Nội
Have a look to the tour proposed by the Hoa Binh Tourist agency
Traditional Village Tour full-day
Visit old pottery, carpentry, and carpentry villages around Hanoi.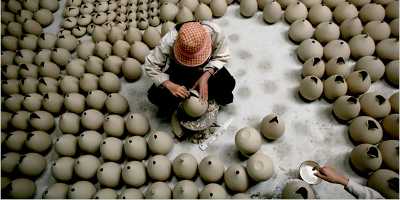 Bat Trang is 13 km south-east of Hanoi. Bat Trang belongs to Bat Trang Village, Gia Lam District. This is a potteryvillage with a half-millenary historic development. Some decades recently, the vitality of this village is still blown up by the thousands of pottery-kiln on fire day and night. On the basic of tradition pottery technique, Bat Trang pottery workers have taken - abused-propagated greatly the progress of science technology into every stage in making pottery. It has made many types of top class pottery, that is useful and beautiful and it upgrades the sense of pottery art. The Bat Trang list of pottery getting high quality is longer more and more by day like bowl, dish, pot, cup, wine pot, a big flower-vase, leg lamp, lime-pot, big-bellied jar... It made by all sort of glazes as ancient pearl blaze, crackle glaze, dark glaze, indigo-blue flower glaze, Grey flower glaze, melt glaze... Thank to that the benefit of people in pottery village is getting higher.
Perfume Pagoda Tour full-day
Visit an accumulation of several pagodas about 60 kilometers southwest of Hanoi considered one of the most beautiful places in North Vietnam.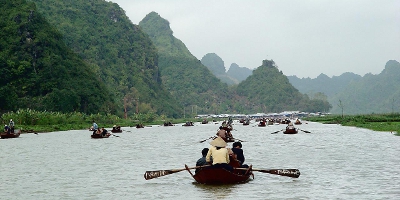 The Perfume Pagoda (Chua Huong) is in fact a vast complex of pagodas and shrines built into the limestone Huong Tich mountains. From the middle of the second lunar month to the end of the third lunar month, it is the site of a very popular religious festival which draws large numbers of pilgrims. You first start the trip by boating on a river among a beautiful karstic landscape, then you hike quite a long trail, which is all lined up with stands of food and religious souvenirs, to reach eventually the main sanctuary in a cave. Along the way, there are a great number of other places to worship. It is a festive occasion for the Vietnamese who often make the trip in large groups.
Ha Long Bay - Cat Ba Tour (2 days/1 nights)
Visit world-heritage Ha Long Bay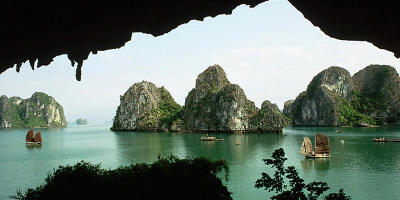 Ha Long Bay or "Bay of the Descending Dragon" lies in the northeastern part of Vietnam and is 165 km from Hanoi. One of the main attractions of Ha long is the bay's calm water and the thousands of limestone mountains dotting the seascape. The Bay's water is clear during the spring and early summer. Some of the islands are quite large and there are small alcoves with sandy beaches where swimming is possible.