Context: In today's business setting, interest in the profitable exploitation of a firm's technological assets, through technology transfer and applications, has intensified. MICA's Technology Transfer and Applications Center (TTA) develops application-specific solutions for its customers in the research and scientific market.

TTA Center operates as a bridge between MICA Institute research Departments/groups and the business community. Through technology transfer, innovations may be incorporated into products and services that directly benefit Vietnamese society, as well as research and education at MICA Institute and Hanoi University of Science and Technology.
Objectives
TTA Center's objectives are completed by more societal tasks as:
• Support economic growth by forging closer ties with industry and launching new ventures based on MICA Institute's technology;
• Attract, retain and reward faculty and students;
• Generate income for future research, development and education.

 

Strategy
The main strategy of TTA Center consists of:
• Providing a comprehensive technology transfer system to MICA Institute and thus facilitates and accelerates technology transfer between MICA research groups and Vietnamese (international) companies;
• Promoting collaboration between MICA research groups and the Vietnamese technology industry;
• Commercializing MICA Institute research discoveries for societal benefit;
TTA Center's mission is to assist Vietnamese companies working in the field of information technology in innovation by:
- Technical support: support in a process of technological change, adaptation of technology solutions, knowledge and know-how transfer, etc.;
- Technology development: design, construction or improvement of products, the development and testing processes, specialized equipment or prototypes, improvement or development of technology, animation and intervention, technology transfer, etc.;
- Continuous market survey: analyzing market needs and proposing to the MICA research teams to develop innovation in fields presenting high growth potential and high added value;
- Information and training: the development of customized training, technology intelligence, information retrieval, follow-ups and post-training assessments, market research and feasibility studies, participation in the organization of conferences and symposia, etc.
Activities
With the aim to bring the research results to industry, theTTAC is divided into three main services developing the following activities: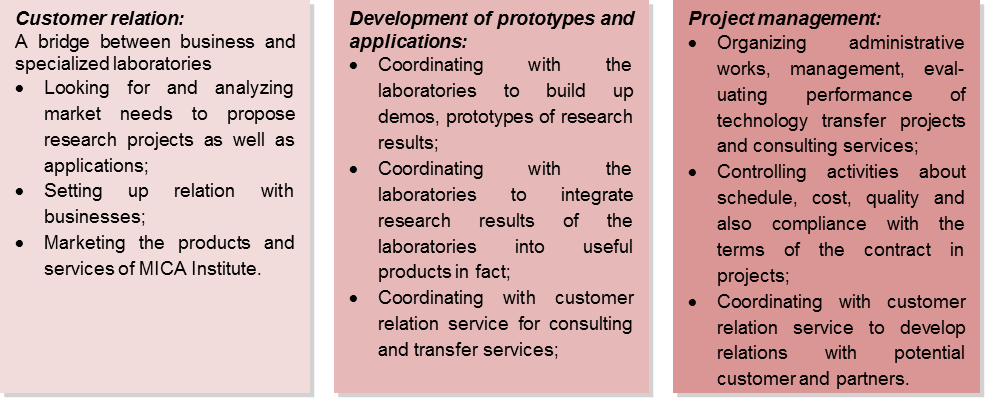 Projects in progress
• Smart Patient Room (in cooperation with Speech Communication department, Computer Vision department and Pervasive Spaces & Interaction department)
• Visually impaired people assistance using multimodal technologies (in cooperation with Computer Vision department)
Completed projects
• Robot2Control (in cooperation with Speech Communication department)
• Smart Robot (in cooperation with Speech Communication department and Computer Vision department)
• Study and design of an UHF RFID reader (in cooperation with School of Electrical Engineering – HUST)
Contacts


 
 

Le Minh Hoang (director)
Nguyen Quoc Cuong

Ta Quang Minh
Doan Thi Ngoc Hien
Bui Thu Thuy
Le Minh Thuy
Dao Thi Hao

 

 

 

 

 

 

This email address is being protected from spambots. You need JavaScript enabled to view it.
This email address is being protected from spambots. You need JavaScript enabled to view it.

This email address is being protected from spambots. You need JavaScript enabled to view it.
This email address is being protected from spambots. You need JavaScript enabled to view it.
This email address is being protected from spambots. You need JavaScript enabled to view it.
This email address is being protected from spambots. You need JavaScript enabled to view it.
This email address is being protected from spambots. You need JavaScript enabled to view it.

 

 

 

 

 

 

Partners


VMG (Vietnam)
SUNNET ITC Solution (Vietnam)
IMEP-LAHC (France)
School of Electrical Engineering – HUST